With technology advancing at lightning speed these days, it's hard to keep up with the latest and greatest things going on in the business world! Here are a few key items to highlight in important news from Clickatell throughout this past quarter. We want to make sure you have all the tools and insights you need to best serve your consumers with superior digital customer experience (CX). Let's dive into the latest product news and updates that will keep your business ahead of its competitors with cutting-edge and modern technology with Chat:
1.  The right message at the right time: Advanced Messaging
It's time for your business to jump-start valuable Chat Commerce engagements with your customers with Advanced Messaging, a capability (a message delivery mechanism) from Clickatell. Traditional one-way notifications become richer, actionable, conversational exchanges that allows the customer and the business alike to use messaging to get more done. Go beyond basic messaging with bulk, generic SMS blasts, and move to useful, actionable messaging, that keeps the conversation going, by delivering personalized messaging experiences that drive meaningful customer engagement and retention.
2.  Business Payments, Made Easy: Chat 2 Pay
We're happy to announce that we've expanded our Chat 2 Pay product, which allows you to request payments from your customers with a secure payment link sent in a message (SMS or WhatsApp). Payment requests can now be triggered in three new ways: i) in an automated exchange with the customer, from a workflow built in Chat Flow, ii) during a live chat session with an agent on Chat Desk, or iii) through a set of Enterprise APIs that allows the experience to be built into web and mobile applications. This is now in addition to Chat 2 Pay being available as an integration to Salesforce Order Management. 
3. New Feature Alert: WhatsApp Interactive Messages
Exciting news! The WhatsApp Interactive Messages feature is now available in Chat Flow, as well as with OneAPI. WhatsApp Interactive Messages give your end-users a simpler and more efficient way to find and select what they want from your business on WhatsApp. There are two types of interactive messages, List Messages (up to 10 options) and Reply Buttons (up to 3 buttons). So much more engaging than numbered lists!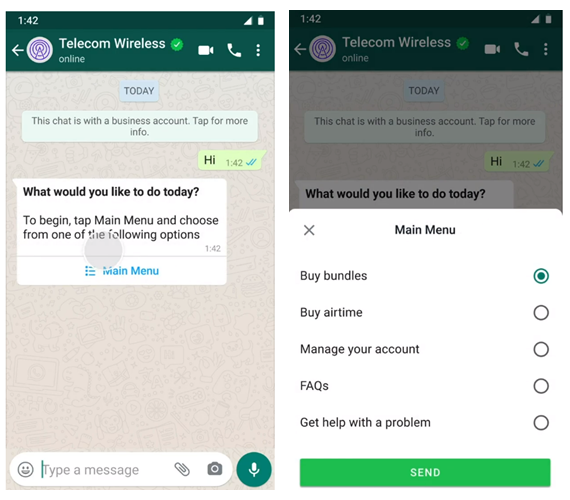 For a full technical overview of interactive messaging see here or talk to us today to learn how Clickatell can set-up advanced chat features for you.
4. Anonymous Messaging on WhatsApp
Anonymous Messaging is a new feature that allows your end-users to communicate anonymously with a WhatsApp Business Account. The most common use case that this feature enables is a whistleblower functionality, allowing users to report suspicious activity to a business while keeping their identities protected. Businesses can now catch issues before they become more problematic or made public. The mobile number of the individual making the report is not visible or accessible to anyone, including Clickatell staff members, to protect the sender's identity. Learn more about Anonymous Messaging and our WhatsApp Business solutions here.
 Do you want to learn more about Clickatell's Chat Commerce solutions designed to offer superior customer experiences for forward-thinking brands and enterprises? Talk to us today to explore the magic of messaging.