Marketing and Promotions
Unlock the power of conversational marketing
Direct WhatsApp marketing
Send personalized marketing campaigns, promotions, product updates, and exclusive offers directly to customers' WhatsApp inboxes.
Amplify brand reach
Drive brand awareness, generate leads, and amplify marketing efforts with WhatsApp's expansive reach.
Automated outreach
Automate outreach for impactful engagement with your audience.
Automated outreach

Automate outreach for impactful engagement with your audience.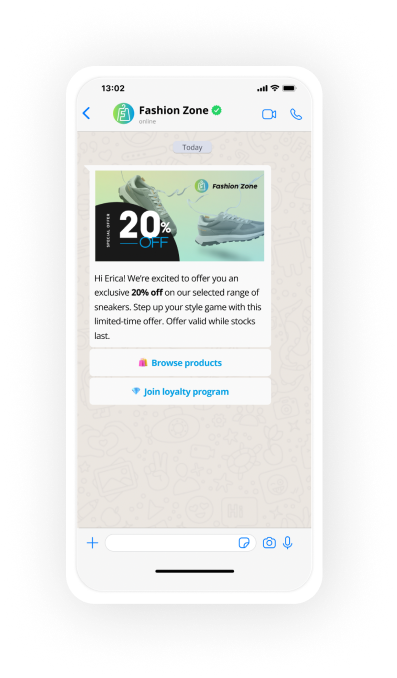 Sales and revenue
Streamline sales and increase revenues
Efficient Sales Enhancements

Streamline your sales process by integrating to your CRM and OMS.
Send real-time product availability, pricing details, and even enable direct purchases.

Nurture leads and drive sales growth

Use it for follow-up conversations, or cart abandonment messaging.
Send product catalogues, answer questions, and share quotes.
Increase sales with the Clickatell platform
Leveraging the power of dynamic communication channels.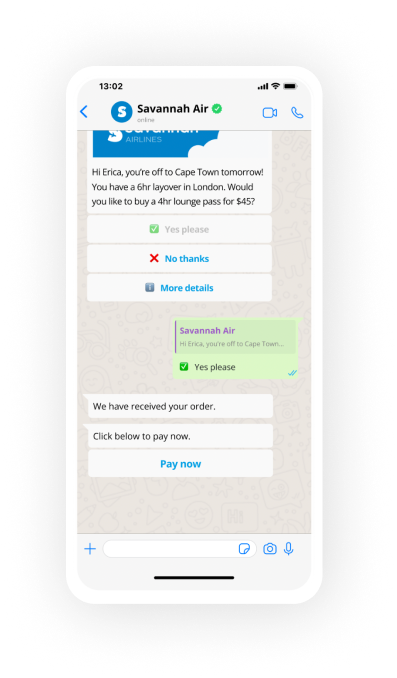 Customer Service
Deliver customer service that delights consumers
Superior customer service

Provide immediate, personalized customer service, 24/7, right where your customers are.

Seamless customer support

Improve customer support by resolving queries and issues promptly in a messaging channel that customers already use daily.

Real-time assistance

Respond to queries, resolve issues, and provide assistance in real-time.

Automated responses

Automate responses for common questions, freeing up your support staff for more complex queries.