Win with Chat Commerce
Today's customer has exceedingly high expectations when it comes to interacting and transacting with your company. Covid-19 has cracked open the shortcomings, and further fueled customers' discontent, in the typical digital commerce experience.
In this on-demand webinar guest speaker Lily Varon, Senior Analyst at Forrester, and Jeppe Dorff, Chief Product and Technology Officer at Clickatell, talk about the seismic shift that's underpinning today's changing landscape when it comes to digital commerce.
Learn the 5 key mindset shifts that impact how your customer engages with your brand.

Find out how to evolve your tech stack to take advantage of digital commerce tools to deliver the experience your customers' demand.

See how chat commerce technologies can enable the personal, instant interactions and transactions customers love—without adding work for your live customer agents.
Watch this on-demand webinar today and contact us to start leveraging chat commerce in your business.
Speakers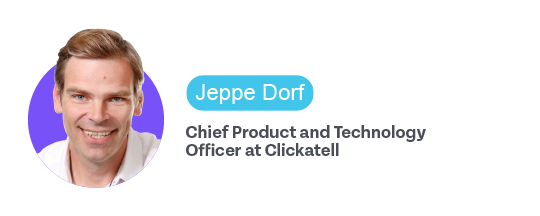 Jeppe Dorff
Chief Product and Technology Officer, Clickatell
Jeppe Dorff, a native of Denmark, has a wealth of global perspective with a career spanning most continents and many individual mobile payments and mobile banking deployments. As the Chief Product and Technology Officer at Clickatell, Jeppe oversees Clickatell's global footprint by delivering the company's Chat Commerce Platform that enables Chat Commerce capabilities to large and small organizations.
Lily Varon
Senior Analyst, Forrester
Featured speaker Lily Varon is a senior analyst serving digital business strategy professionals. Her research focuses on the strategies and technologies that firms need to win, serve, and retain customers in the age of digital business, including recurring customer and billing management solutions, the merchant payments processing landscape, evolving consumer payments behaviors, and how merchant payments acceptance strategies must adapt to serve them.