Text marketing tips for the USA
Text marketing is no longer marketing's spammy step-cousin. As the number of people who own smartphones continues to rise, text messages are the most popular smartphone feature in the United States.
But, who exactly is using text messages, and what are the business benefits of text marketing?
Text messages: The most popular smartphone feature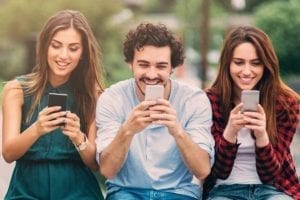 There are 224 million smartphone users in the United States and they check their devices...a lot. American smartphone users check their phones 45 times per day, according to a Deloitte study. That number jumps to 74 checks per day for users between 18 and 24.
What are they doing on their phones all this time? Texting.
According to Nielson, U.S mobile contract users send 764 text messages each month.  Another study done in 2015 by the Pew Research Center found that text messaging is the most-used smartphone feature across the United States.
The study also found that:
100% of users aged between 18 and 29 used their phones to text

The figure dropped to 98% for the 30 and 49 cohort
Here's a caveat on the data: the traditional form of texting - SMS - is still popular, and still stands up well to newer services like RCS messaging. Although many studies do not separate the two types of messages, the numbers do underscore the consumer's preference: simple text messages with content that matters.
Text messaging for business
Customers living in the connected, digital economy desire speed and quick fixes to their problems.
Traditional text is still the fastest form of communication, and here's why:
67% of respondents want to receive service-based messages from banks, e.g. account-based alerts, according to the Vibes Transactional Messaging Consumer Report

76% of consumers value speed as the most important feature of service-based messaging, and the factor that can most improve customer satisfaction

A 2016 Flowroute, Inc survey found most U.S consumers preferred SMS over email for recurring business notifications like appointment reminders
The business benefit is clear. And, for example, a financial provider can improve customer service and reduce fraud when introducing chat banking. FirstGlobal Microfinance Bank allows users to perform balance queries and real-time transaction alerts using Clickatell, as well as to send reminder alerts about mortgage payments, which leads to a decrease in interest charges for customers. In Nigeria, the First Bank of Nigeria has partnered with Clickatell to launch a chat banking channel on WhatsApp. Customers can check their balances, perform transfers, and make payments. South Africa's Absa Bank has also used Clickatell to roll out its chat banking service, attracting 10 000 subscribers in less a month.
Benefits of text marketing
Text marketing has been around for a while, but it's evolved to become a powerful modern marketing tool, since text messages have a 98% open rate. Email trails way behind at an abysmal 22%, and even worse is the 2% average click-through rate for pay-per-click ads.
Text is faster too.  More than 90% of texts will be read within three minutes of being sent.
A winning text marketing strategy
While there's no denying that text messages can deliver results, there are tactics that are more likely to deliver on the benefits of text marketing.
Nineteen percent of millennials were more likely to take action on a mobile ad if it contained a coupon. But, there are bad practices to avoid, like not sending spam texts.
The primary reason customers in the U.S unsubscribe to a brand's text messages is due to receiving too many messages, according to data from Statista. With 41% of consumers leaving a brand's text messages unopened because they didn't offer meaningful content.
So, it's clear that businesses that use text messages to communicate with customers find it a cost-effective, immediate way to reach customers with real-time updates and helpful content.
To learn more about driving multi-lingual SMS marketing campaigns to connect with customers globally, have a look at Clickatell's SMS Platform which enables businesses around the world to SMS-enable their websites, applications, and services.