Digital transformation is impacting how both credit unions and banks operate. However, each respond to this business and technology shift in different ways and speeds, with banks leading the way. This gives credit unions an opportunity to learn and adapt from banks and what they have implemented, as well as see what is most appropriate for their business models and customers.
Bank Branches to Digital Banking
Bank branches have been evolving rapidly to meet the needs of their business and consumer clients while maintaining or improving profit margins. Despite customer dissatisfaction, according to a report in NPR, many banks have been closing branches and focusing on digital banking instead.
The move toward digital transformation makes sense for most banks because they know younger customers rarely require physical locations. They would rather interact with financial institutions through smartphone apps and online accounts. Also, impacts from Covid-19 these past 12 months have shifted people's reliance on branches.
How Credit Unions Approach Digital Transformation
The digital transformation process has presented challenges for many credit unions, which often have limited staff sizes and smaller IT budgets than banks.
With less money to spend on digital transformation, credit unions tend to lag behind banks in investing in new apps and other digital communication channels. In addition, credit unions have seen less urgency from their customers to adopt digital banking practices until recently. This has advantages and disadvantages. On the one hand, the lower urgency means credit unions can take their time adopting newer technologies. On the other hand, they risk becoming outdated before realizing they have lost members, particularly younger members whom are more prone to switch brands, to banks that can meet their preferences.
3 Ways Credit Unions Can Level Up Their Digital Transformation
Smaller staff sizes and limited IT budgets don't have to prevent credit unions from embracing digital transformation. It just means they need to sift through the myriad of options to formulate a strategy and execute with technology approaches that will move the needle most for their customers and their business. Below are 3 cost-effective ways credit unions can take advantage of digital transformation:
1. Use Chat Commerce to Improve Customer Acquisition and Engagement
Chat commerce offers better ways to acquire and engage customers—one that isn't just loved and appreciated by customers, but also cost-effective for credit union themselves and easy to deploy.
Chat commerce represents a critical opportunity for credit unions to:
Improve the customer experience by providing direct access to information and services without visiting a physical branch or calling a customer service line.

Give customers a way to save time and receive the services they need according to their schedules.

Save on customer service costs by enabling chat and/or chatbots to offload many of the customer service tasks typically handled by in-person phone calls.
When credit unions offer chat commerce through text and popular apps like Facebook Messenger, WhatsApp, Apple Business Chat, Google Business Messenger and others, they can improve member experiences and help their non-profit organizations reach higher levels of success.
A Clickatell survey of consumers shows that 54% of consumers already use chat apps to communicate with businesses. In the banking industry, 33% of members say they use chat apps to access services from their banks.
More important: 71% of people who haven't used chat apps to communicate with businesses say they are willing to do so.
But that's just half of the story. Brands that keep the customer-first when deploying their digital transformation strategy experience a number of key year-over-year advantages including:
75% increase in annual revenue growth

27% more likely to report decrease in service costs
85% increase in cross-sell and up-sell revenue
2. A Simplified and Secure Process for Banking Accounts
Making it easier for new customers to maintain digital accounts without compromising security can give your credit union a straightforward way to grow your membership.
That said, it's essential to place a high emphasis on security. Potential customers and current members alike worry about data breaches and "man-in-the-middle" attacks. Choosing chat commerce options known for exceptional encryption and security will give peace of mind to many people and encourage hesitant users.
For instance, WhatsApp's end-to-end encryption makes it one of the most secure options for people who want to open digital accounts with credit unions and other financial institutions. When it comes to communicating sensitive information via a chat app, WhatsApp stands out as an excellent option.
3. Adding a Personal Touch to the Digital Experience
Giving your customers the ability to transact over chat lets you add a very personal touch. When your bank is a contact in a customer's address book, engaging with them is no longer a disjointed business transaction. It becomes an ongoing conversation. If someone wants to open a new account, the chat can lead them through each step. If someone wants to check their credit card balance, they can ask the chat app to find the information for them.
With chat commerce, there is no tradeoff between personalization and easy access to information and the purchase of new products, thanks to chat's direct conversational nature. What's more, it's not just a better experience for the customer—it's a serious money-maker for your credit union. Conducting business in chat yields up to 4 times more sales conversion than traditional buying channels
Pull in a Proven Partner
Given the many moving parts, it's imperative to bring in experts with a clear understanding of banking use cases—and the functionality to deliver. You'll need a partner who has experience creating rich chat customer experiences and an understanding of the requirements of and capabilities provided by the different chat channels available.
Clickatell is the early leader in delivering chat commerce for financial institutions, including using chat for financial transactions and the purchase of digital goods. Clickatell is also an authorized provider for WhatsApp, the world's most popular messaging app. Furthermore, Clickatell is already working with various large fintechs that have historically served the credit union SME bank segment.
Our products enable:
Multichannel messaging across SMS, social media, and chat apps.

Creation and management of automated conversational use cases using business flows and chatbots.

Human-in-the-loop interactions via chat channels with customers that cannot be handled by automation.

The distribution, sale, and management of digital goods and services.
We've designed and built highly effective chat experiences for some of the world's most forward-thinking global financial institutions. Our team of experts has deep chat experience and a streamlined rollout and onboarding process. What's more, our value-realization framework helps large and small brands ease into this digital transformation with a phased approach and change-management practices.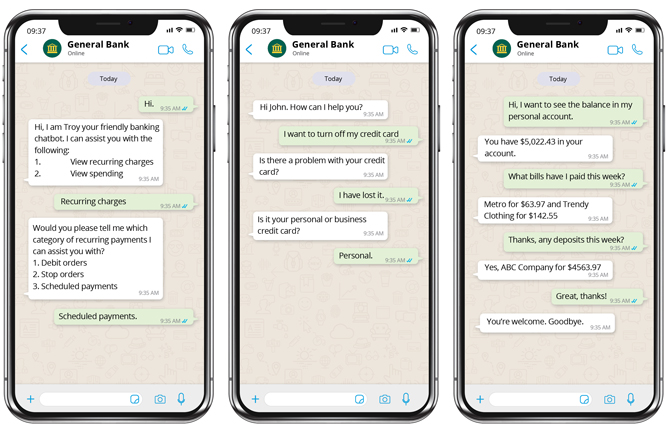 Sound exciting? It is. Please reach out to Clickatell and let's discuss how we can make chat commerce a key part of your digital transformation strategy.
Learn More Chat Commerce and Credit Unions
Clickatell's eBook Chat Banking Is Here: Is Your Bank Ready? can give you deeper insight into how chat commerce helps financial institutions and their members. You can download the free eBook here.