Clickatell now supports QR codes as a simple and secure way for customers to rapidly reach businesses on the world's leading messaging channel, WhatsApp, with over 2 billion active users.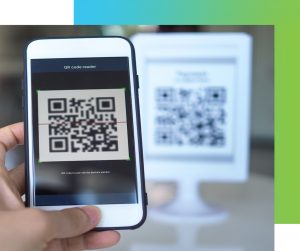 QR codes or Quick Response codes are the 2D matrix bar codes often found on consumer products, magazines, coupons, and more. By scanning a QR code with one of their mobile devices, your customers can automatically be directed to your business's WhatsApp channel, a product offer, a web page, or a payment system, to conduct business activities.
As contactless interactions between customers and brands grow in a new digital era, so does the need for customers to be able to quickly reach businesses with minimal effort on a familiar messaging channel.
Clickatell's WhatsApp QR codes for businesses is a quick and easy way for your customers to reach and interact with you on WhatsApp. There is no need for your customers to memorize your business's phone number, website, or store your details as a contact. Let your customers start a conversation with you today on the world's favorite messaging app in three simple steps: Point, Scan, Chat!
Multiple Customer Access Points
WhatsApp QR codes are accessible through multiple entry points. QR codes can be positioned outside your storefront or digitally on your website or your WhatsApp, Facebook, and Instagram communications.
WhatsApp QR Code Use Cases
Several compelling QR code use cases are emerging across industries. Chat engagement, product discovery, and problem resolution are some of the most popular activities that are being initiated with WhatsApp QR codes.
Chat engagement – Let your customers start a secure conversation with you on WhatsApp quicker than ever before by scanning one of your accessible QR codes.

Product discovery – Provide your customers with product information or an offer to drive customer adoption of your products or services.

Problem resolution – Immediately redirect customers to your customer support department with a WhatsApp QR code and intuitive pre-filled message template to resolve their requests.
WhatsApp QR codes will elevate your customer experience, reduce friction, and make it easier for your customers to reach and engage with you on the leading messaging channel, WhatsApp. As a business, you can pre-fill your response to the first message customers send you after scanning a QR code to help guide them through their business activity.
How to get started with Clickatell's WhatsApp QR codes
All you need is an approved WhatsApp Business Account. Reach out to us today to learn more about WhatsApp QR codes for your business needs and how we can help you connect, interact, and transact with your customers.