"I think of the decade from 2010 to 2020 as the decade where we embraced dynamic information at our fingertips with the switch to mobile. This next decade from 2020 to 2030 is where we're going to turn away from static banking and payments and embrace dynamic payments. We made the mobile move, now we're going to make the payments move."
This powerful summary of the decade just past and the one ahead was one of many fascinating insights from our interview with Bruce Burke, Founding Principal of the #Pay Symposium and Exposition. Our conversation also covered how the structure of governments will change with sweeping changes in FinTech, how commerce will automatically "happen" as you go about your daily life, and how $5 trillion is being lost annually in the US because of inefficient payment infrastructure.
Career Path: From Pay Phones to #Pay
We began by asking Bruce to describe his career journey and how he becomes deeply involved in FinTech: "I've always been interested in electronics, early in my career I was involved in installing smart payphones, then I transitioned to international long distance and other prepaid services. I later worked as the marketing director for a company that did international mobile services. We got on social media to start broadcasting the specials and I started finding connections with people doing mobile financial services and mobile money. This was in 2010 or 2011 and it was the nascent days of mobile wallets and also social media. We combined these trends together and started doing some events on 'social mobile payments.' We looked at the convergence of three factors, 4G was just coming up, social was rising, and everyone was moving to mobile. I started writing blogs for Mobile Payments Today, it kind of blossomed and I started meeting people all over the world. This was even before the field was known as FinTech, I continued to grow my network and my audience and became good friends with a lot of people that were the top influencers worldwide."
Bruce's latest endeavor is the #Pay Symposium and Exposition, which just kicked off its first major event in Las Vegas: "At the Las Vegas event, we had some brilliant companies and great speakers including Ron Karpovich, the Global Head of e-commerce for JPMorgan Chase. We had a great startup showcase that highlighted 10 early-stage startups who gave their pitches to a judging panel that included judges from Barclays Innovation Center as well as major banks and venture capitalists. It was a great first event with a lot more to come in 2020 and beyond."
Changes in Government
Bruce described how he sees changes in FinTech having implications for the role of government and even the types of people we elect in government: "The regulators are worried about industry competitiveness, trying to break up companies like Google. What I think is happening is they see tech companies are gaining more control or influence over the population than the government has. With blockchain and quantum computing on the horizon, the government is racing to catch up with tech. If you have the potential of moving a group of followers to a new type of currency or new payment scheme, you could take a lot of control away from the government. Money is essentially a belief system, and if you can get someone to believe, for example, that the US dollar is no longer worth holding over new digital currency, then the government really has no control over that group of people anymore. If you take away the power of the currency, you take away the power of government other than just the power of the brute force. I think the end game is government and tech companies will need to cooperate more than ever, but it doesn't seem like tech companies want government involved in their business. I think our ideas of government need to change beyond the status quo. I don't think a bunch of 60, 70, and 80-year old Senators and Congressmen really understand what they are trying to regulate on these technology issues.  I think there will need to be more techies, creatives, and thinkers moving into these positions rather than the typical traditional profile of a politician we've had all this time. We are starting to see this now with candidates like Andrew Yang. I think it's going to be a long process, but there is going to be a real change on the horizon."
Seamless Commerce
Bruce gave an interesting description of how he sees digital commerce surrounding you as you go about everyday life: "I think commerce will become more seamless and automated, with transactions and the whole experience becoming more simplified. I think of a future version of something like Google Glass, which could essentially become your personalized 'speed pass' for life. You have it on your face and go about your daily activities. If you go into a store, the unit might detect that you might want an item and you could wink to confirm and say yes, for example. It becomes a seamless transition through life, bills are automatically paid, money is automatically accrued just by going about your daily life and being productive. Your digital assistant will warn you when you need to be more productive and save money versus when you may need to be more experience-oriented and let the money flow a bit more. There needs to be a balance of both, if everybody just hoarded money all the time, the whole system would come to a stop – that's why today we have holidays like Cyber Monday, etc."
The $5 Trillion Question
In a powerful introductory video for the #Pay Symposium, Brett King mentioned that the US economy loses about $5 trillion annually (roughly $17,000 per citizen per year) because of an inefficient payment system. We asked Bruce his thoughts on where this $5 trillion per year is being wasted: "Banks and financial institutions are paying a lot of money in fines for not meeting the requirements of regulations like Know Your Customer (KYC) and Anti-Money Laundering (AML). They're just paying the fines rather than meeting the process properly. This is all ultimately passed on to consumers through bank fees and other costs for different products and services at the bank. Consumers are also ultimately paying for all the fraudulent transactions; every year there's a tremendous amount of fraud with payments and bad actors trying to get you to buy, for example, gift cards to pay off a supposed income tax deal. There are all the calls we get for products that are just throwaway products that are no good or never delivered, and people just forget about them because it's a $20 item. Another example is just this morning I saw a story about a $43 million scam where they've taken rejected parts from Foxconn and have been building phones out of them off-site and selling them as iPhones. Then there is also all the insurance fraud that raises rates and is all ultimately passed on to consumers."
We hope to continue the conversation with Bruce as this series develops. Please share your thoughts and reactions in the comments: Do you agree with his vision on the future of commerce and how even the government will be affected? What about his thoughts on how money is lost and passed on to consumers with the current infrastructure? Please share your reactions and we will incorporate them into future discussions with Bruce.
Authors
Shastri Purushotma and Jeff Leroux have interviewed 100s of senior executives and published articles about those discussions. They formed B2B Buyer Insights in late 2019 to bring this service to clients focused on thought leadership.
Jeff Leroux - Chief Executive Officer at B2B Buyer Insights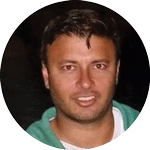 Shastri Purushotma -  Chief Content Officer at B2B Buyer Insights