Help Center
Why was my WhatsApp Business Account application rejected?
Note that, although Clickatell provides you with guidelines and assistance, we do not have the final say in whether your application is accepted or rejected. Each application is reviewed by WhatsApp themself. Below, find some possible reasons why your application might be rejected. 
Display name guidelines 
Note: The display name review will be initiated after Business Verification is completed to get access to more business-initiated conversations.
A display name must: 
Be an accurate representation of your business.  

Be consistent with your external branding. 

Have a clear relationship with your business. 

Be formatted correctly.

All caps are not allowed. 

Spacing must be the same as in your external business name. 

No extra punctuation, emojis, or character symbols are allowed. 

Not in URL format. 

Contain a minimum of 3 characters. 

No extra words to your company/brand name, unless it indicates a country/region, department/function, or "Test"/"Demo". Permitted words must be capitalized. 
See here for more information. 
You can directly change a display name in the WhatsApp Manager.
Click the Edit icon next to a display name to change the name for resubmission. 
If your Display Name is rejected, the "Certificate" status will change to "Name not approved." At this point, hover over Name and click the Edit icon to change the name for re-submission.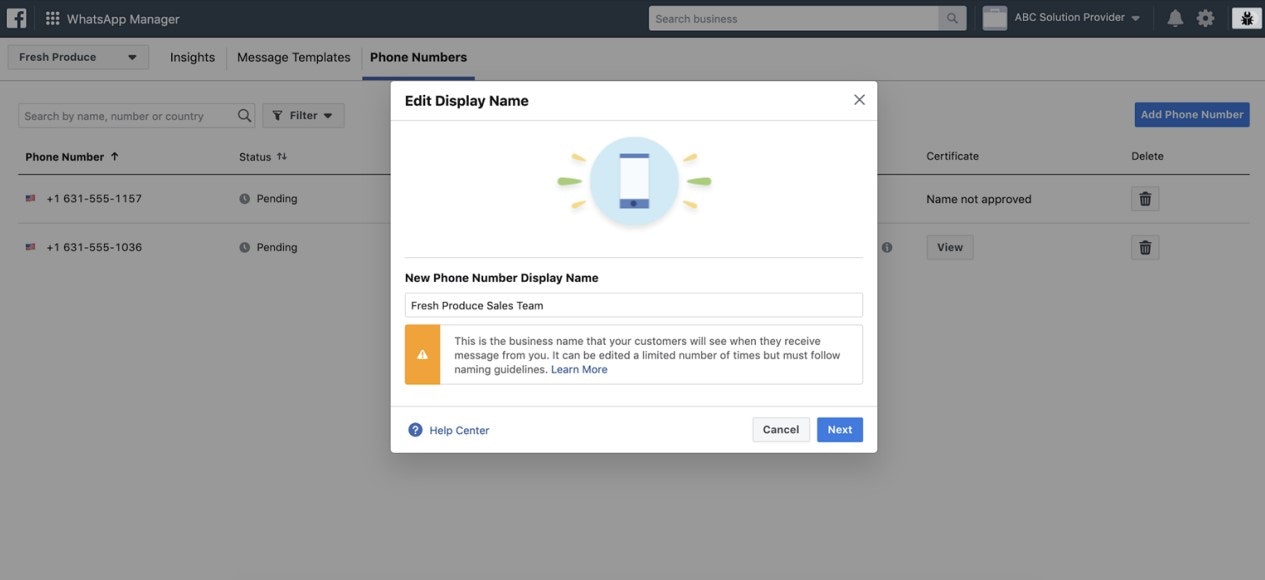 Contact support
Contact our support team and one of our agents will be in touch with you to answer any questions you have.
Ask the community
Visit Stack Overflow to join our community of developers and find the answer you need.
Developer docs
Access the latest technical information regarding Clickatell's channels, products and APIs.