Overview:
Facebook is introducing a new conversation-based pricing structure starting 1 February 2022. There will be a fee per 24-hour conversation replacing the fee per message template.
What are the different Business Conversation types?
User-initiated conversations
A scenario where an end-user initiates a conversation with your business via WhatsApp

E.g.: Customer care, post-purchase assistance, general support queries
Business-initiated conversations
A scenario where your business sends an update or initiates a conversation with the end-user using a message template via the WhatsApp Business Platform

E.g.: Flight alerts, account notifications, appointment reminders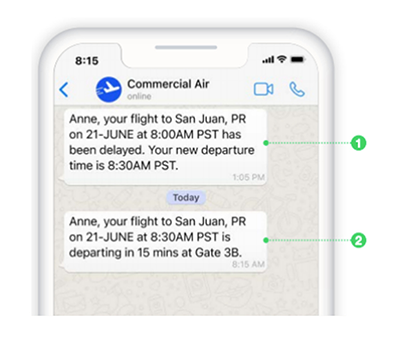 How are conversations charged?
Conversations are measured in 24-hour increments or "sessions". These 24-hour conversation sessions start whenever the first message is delivered by a business, either in response to a user inquiry or if a business-initiated message template is delivered.
Charges depend on several factors, including an end-users' phone number (i.e., where it's registered), whether it's a business or user-initiated conversation, as well as the specific market. During a conversation, there are no additional fees.
However, the first 1,000 conversations per month for each WhatsApp Business Account are free of charge!
Have questions? Check out WhatsApp's pricing overview here.
How does this impact Clickatell's fees?
When using our WhatsApp Business API solution, the total fee comprises Facebook's and Clickatell's fees. Although Clickatell's fee will remain the same and be charged per outbound message, how Facebook charges you will change.