It's hard to believe that we've entered the final stretch of 2022! And although we have our eyes excitedly fixed on the future in preparation for a Clickatastic year ahead, we wanted to reflect on the improvements to our products we rolled out in 2022.
New Releases on the Clickatell Platform
Most of our work this year was foundational and geared towards improving scalability and responsiveness in preparation for a bunch of exciting new features we'll be adding to the Chat Commerce Platform next year. Furthermore, we rolled out a few exciting new features for our customers. Here are the top ones we're most excited about:
Click to WhatsApp
Businesses can now add a "Send Message" button on their Facebook and Instagram product pages and ads, opening a conversation thread in WhatsApp.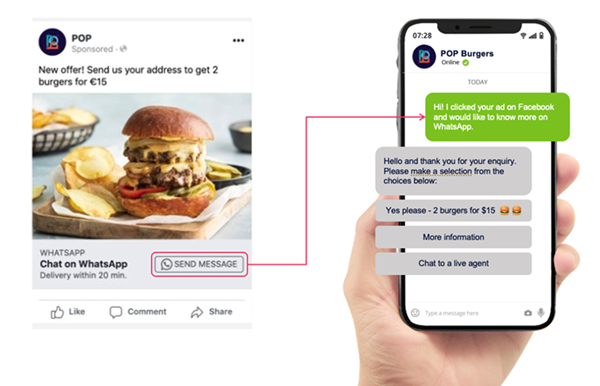 This means you can now have ads clicking straight through to WhatsApp across Facebook and Instagram, which includes the news feed, Stories, and Marketplace. An exciting new addition, it helps your business generate more leads by leveraging the call-to-action on the ad and combining it with the rich, personalized messaging experience WhatsApp offers.
Start chatting immediately with highly qualified leads, answering their questions, offering support, and guiding the customer to the sale. Contact us today if you want more information on ads that click through to WhatsApp.
Chat 2 Pay
Chat 2 Pay is now available across our Chat Commerce platform, enabling businesses to trigger payment requests via SMS and WhatsApp. This, in turn, enriches customer service and support communications by enabling secure payment experiences in channels customers already love and trust.
The payment request can be sent in an automated messaging workflow via Chat Flow, during a live agent messaging session using Chat Desk, during a call with an agent from within Salesforce Order Management, and programmatically by integration to the Chat 2 Pay APIs.
SMS as a Channel
Did you know that Clickatell developed the world's first SMS API to send messages from a computer to mobile phones over 20 years ago?
These days we also support SMS as a channel in our modern platform applications, Chat Flow and Chat Desk, and not just through our enterprise-grade APIs. This empowers businesses to engage their customers in automated or live agent messaging conversations using the world's most widely adopted communication format – text messaging.
Interactive Messages
We support the WhatsApp interactive messages feature across our platform, enabling businesses to include list messages and reply buttons in messages. This makes conversations easier and more intuitive for your customer while delivering more engaging brand experiences.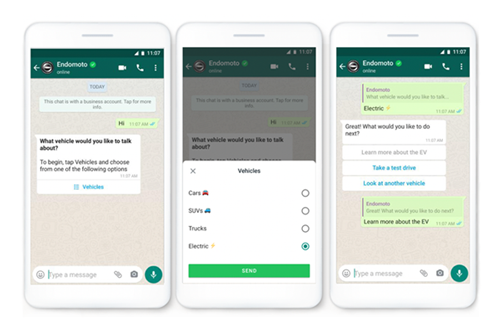 Embedded Client Authentication
Businesses can now authenticate their customers against an existing Identity Provider (IDP) configured in the Clickatell Portal. Secure information and services can be exposed to the customer on text and chat channels while maintaining a suitable security posture by making the authentication experience consistent across digital channels.
Bulk Messaging
Toll-Free Numbers
We've added support for Toll-Free Numbers in North America, providing brands with an affordable, consistent number for their business, that's very quick to set up. We can text-enable the existing numbers that you already use for customer service and support. Alternatively, you can also get a new text-enabled number from us. To find out more about Toll-Free Numbers, please get in touch with Sales.
Long Numbers
We've added the ability to send a request when long numbers are out of stock or unavailable for a specific country. Small changes like this can make a big difference!
Hidden Message Content
You can now hide the contents of an SMS message from certain users in both online and export formats. Plus, you can do so without compromising the usability of viewing other business-critical message details such as destination and delivery status. We've also introduced a new permission type in the Clickatell User Portal that allows message content to be set as visible or hidden.
Stop List Report
You can now view and generate reports on all end-users who've opted out of business communication via the SMS channel.
Automated Messaging
We've added capabilities to our platform that lay the groundwork to offer more interactive features on new channels and execute performance and billing improvements. Stay tuned for more information on this as we roll them out soon. We've also added the following new features to our Chat Flow application.
Message Display Types
The different channels we support display messages differently. For example, SMS doesn't support interactive buttons in a menu, while a richer messaging channel such as WhatsApp does. Therefore, we've introduced a "Configure Display Type" option in Chat Flow, on the Menu and Multiple Choice nodes, enabling the flow-builder to select how they want the items displayed to the customer.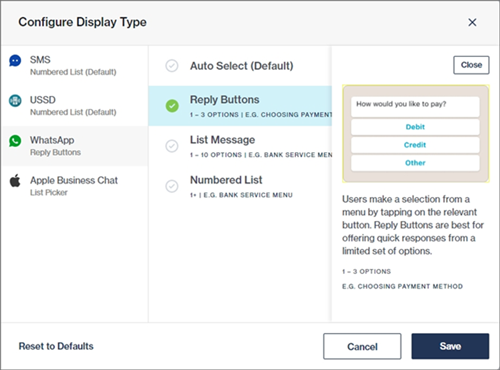 Asset Library 
We've enabled the Asset Library for all clients, allowing you to upload and manage different media files (such as images, videos, audio, etc.) within Chat Flow.
Live Agent Messaging 
Chat Desk Updates 
Chat Desk delivers an alternative to, or an extension of, a contact center, making it possible for businesses to offer customer service using a real person in real-time using one-on-one WhatsApp and SMS messaging. We spent the year focused on Chat Desk's performance, user experience, and billing improvements while also rolling out requirements for new channel support.
Release the pressure on your call center by deflecting traffic to lower-cost channels like text and chat messaging. Chat Desk provides an easy-to-use and cost-effective way to resolve customer queries. For best results, use it in conjunction with Chat Flow, to provide that human touch when automated chatbots are no longer up to the job.
Ongoing Enhancements 
User Experience Updates
We continue to make the user journey simpler and more delightful for marketers, developers, flow-builders, supervisors, and live agents so you can improve the product provisioning process, making self-service in the customer portal easier and more intuitive.
Performance and Support
It's our mission to offer the best core product to ensure you can deliver innovative Chat Commerce experiences to your customers. As a result, we've been working on improving the speed of our Portal while smoothing the customer onboarding and support processes.
That's a Wrap!
Do you want to learn more about Clickatell's Chat Commerce platform designed to offer superior customer experiences for forward-thinking brands and enterprises?
Take a look at how some of these brands have used our platform, and talk to us today to see how you can connect, interact, and transact with your customers on text and chat messaging channels.