Digital transformation is an ongoing exercise for businesses large and small. It characterizes a process of rethinking old operating models, evaluating, investing, and infusing new technologies into existing processes and infrastructure, and becoming more agile in your business's ability to respond to customers and rivals. But digital transformation is also about identifying and implementing entirely new ways to deliver value, growth, and innovation across your business.
One of the ways businesses have embarked on customer-facing digital transformation initiatives is through building powerful virtual channel experiences. In fact, so much growth has occurred around virtual channels it has now become table stakes, with at least half of enterprise businesses employing 10 or more different online and offline channels to connect with customers. But not all channels are created equal – leaving many financial services leaders questioning which channels to emphasize to yield the greatest dividends.
So how to determine which channels work and which new channels to add to the mix? As with most things, let the market – and the customer - be your guide.
Chat commerce solutions offer your customers the ability to engage and transact with your business from the convenience of their mobile phone, anywhere and anytime through the simplicity of chat. By nearly any measure, chat is one of the fastest growing channels in the world.
Chat is the most used interactive channel of choice, with over 80 percent of adults using messaging apps like WhatsApp and Facebook Messenger every day. According to a recent Business Insider report, consumers have been using the top four messaging apps—Facebook Messenger, WhatsApp, WeChat and Viber—more frequently than the most popular social networks—Facebook, Twitter, Instagram and LinkedIn—since 2015. Your customers use chat – a lot – and their use of these platforms will only intensify in the coming years.
The Value of incorporating chat
The ROI from chat is significant—and fairly immediate. Brands that keep the customer-first when deploying their digital transformation strategy experience a number of key year-over-year advantages including:
75% increase in annual revenue growth

27% more likely to report decrease in service costs

85% increase in cross-sell and up-sell revenue

Chat commerce gives your modern mobile-first, mobile-always customers what they want—24/7 instant access and self-service to customer support, account management, and transaction services—using the chat apps they use to communicate every day with family and friends. When your company offers this capability, conversations with your brand will now effectively occupy real estate next to conversations with your customer's mom. How many communications tools put your brand in such revered company?
Chat commerce also provides significant customer service and customer experience advantages. Chat can be used in contact centers for contact center deflection and faster, streamlined call resolutions through WhatsApp.
Following are some additional points that underscore the value of chat ROI in commerce activities:
Nearly 10X decrease in customer effort score

3X increase in first-contact resolutions rates

5X increase in average response times to customer requests

48% increase in customer retention

84% more likely to improve the number of positive social media mentions for their brand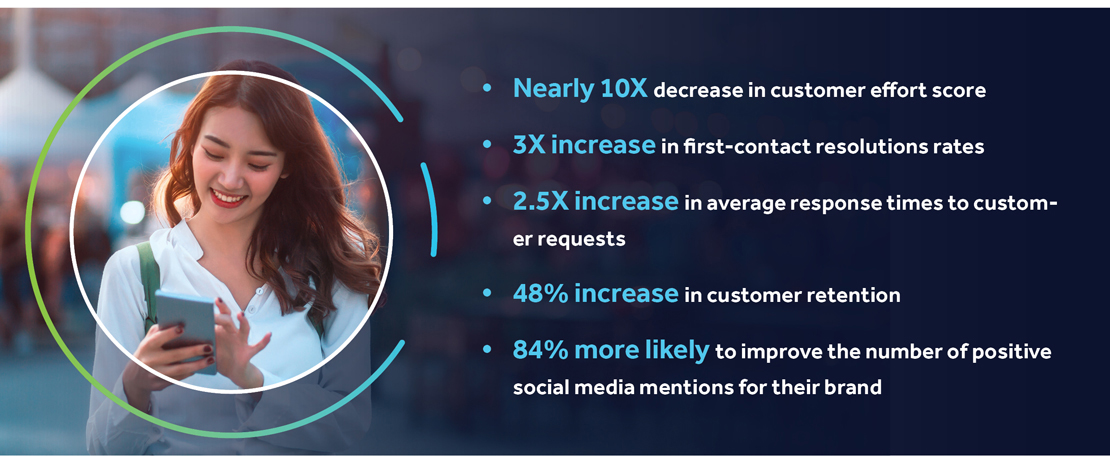 Conclusion
Chat commerce has been gaining strong momentum in the U.S. and Canada in recent years, but it's already a dominant communication and payments channel where mobile-always consumers have been the norm for nearly two decades.
In China, 50 percent of WeChat users make in-chat purchases. And according to a Grand View Research report, the global intelligent chat market is expected to reach $1.23 billion by 2025 with a compounding annual growth rate of 24.3 percent. Currently, 68 percent of North American companies are using chat in their commerce activities— nearly three-quarters of companies use chat for commerce activities in APAC and EMEA. And now that both Google and Apple have emerging chat commerce capabilities, you can expect an explosion of adoption and use.
With chat, your customers don't have to download or master a new app. They contact you through their favorite chat apps, verify their identities, and chat. Customers type what they want to do and select options from simple menus. The chat interface walks them through tasks quickly. Your bank becomes part of your customers' contact list—ready to help or offer expanded services using the UX your customers already use and love.
Want to dive in deeper and learn more? Watch our recorded Leveraging Chat to Manage & Evolve A Customer-First Digital Transformation Program and hear directly from Aberdeen Vice President and Principal Analyst, Omer Minkara, and Clickatell Chief Product and Technology Officer, Jeppe Dorff.