Chat commerce is transforming the way insurance companies like yours engage consumers. As the use of chat apps has exploded in recent years - with 5 billion people around the world using chat platforms with regularity and some 2 billion of these on WhatsApp – the promise of chat commerce has arrived. Interactions take place within the convenience and encrypted security of popular chat apps instead of requiring a call, an in-person visit, or a website to complete simple requests. Chat is now allowing businesses to reach and engage with customers and develop exciting news ways to use chat channels to elevate customer experiences, grow revenue, and reduce costs.
According to recently published information shared by Facebook, using popular chat apps to engage customers delivers measurable benefits for insurance companies and others in the financial services industry, including:
Health insurance company sees 91% query resolution rate and a 3 times faster response time

Bank measures a 10X decrease in customer service costs and a 19 percent increase in net promoter score

Another bank experienced a 30% jump in new accounts and a 93 percent customer satisfaction level
The next must-have digital channel for customer service
According to research sponsored by IBM, businesses like yours spend $1.3 trillion on customer service calls each year. Of those types of assisted interactions, 80 percent could be resolved with automated responses. In response, businesses have invested in automating key aspects of customer service—only to see lackluster results. That's because customers don't like frustrating automation options that waste time. Take interactive voice response (IVR) as an example. Only 3% of your customers actually like IVR.

Complex products like insurance generate numerous requests for information, updates, and more. Many of these requests are fairly simple. What's my deductible? Can you update my contact info? When is my bill due? These aren't questions that require an assisted interaction, and customers may not want to wait on hold or comb through mazes of online FAQs to help themselves.
Mobile-first consumers prefer to deal with straightforward interactions the same way they'd make or change a coffee date with a friend, via chat. Consumers get fast answers to easy questions, and a live chat agent can take over if needed.
Chat turns digital laggards into leaders overnight
 Insurance lags other industries in adoption of digital channels, according to a recent study from McKinsey. Digital adoption is over 70 percent in banking, but just 35 percent for insurance, well behind grocery, apparel, travel, and utilities. Chat commerce provides a quick path to opening a thriving digital channel. You take advantage of the chat apps your customers already use—there's less of an adoption hurdle as compared to a branded app. But it's the exceptional customer experience that really sets chat commerce apart.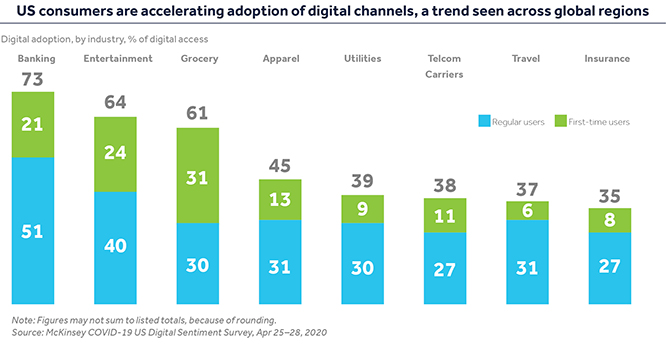 Unlike some forms of customer self-service, chat commerce saves the customer time. Your customers can update their contact information or track a claim in less time than it would take to open a branded app or place a call. Customers can pay a bill, request documents, and learn more about their coverage as easily. They just send you a message from within their favorite chat app to get started. Rules-based and menu-based workflows move them through the interaction. And best of all: customers take your brand everywhere they take their mobile devices. Your company becomes a contact within an ecosystem where customers spend significant time, giving you a competitive advantage when customers need additional insurance coverage.
With chat commerce, support for outbound and inbound messaging delivers a two-way connection to customers. Enterprise integrations and payments make chat commerce much more than a two-way FAQ page. The benefits add up.

Choosing the right chat commerce partner
 To join your customers on their favorite chat apps, you'll need an experienced partner. Clickatell is that partner for many leading brands around the world. We're a pioneer when it comes to connecting business to customers with mobile messaging, and we're in the chat commerce vanguard. With Clickatell, you find a complete solution for chat commerce—plus an expanding portfolio of use cases designed for insurance.
You start faster and see results sooner when you turn to Clickatell. Work with Clickatell to deploy an insurance solution that lets you:
Offer the frictionless mobile-first customer experiences that customers love while resolving queries faster

Increase customer engagement by supporting and reaching customers through a chat channel they already use regularly

Decrease contact center costs by reducing the volume of incoming calls and increasing the use of automation in ways that customers like

Build digital revenue streams by making it easier for customers to upgrade and renew policies and learn about new insurance options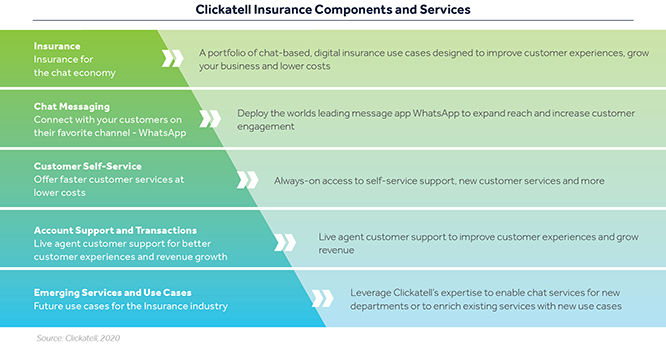 Talk to the experts at Clickatell about how you can make chat your newest—and most transformative—digital channel yet. We can help you start quickly with proven customer chat journeys. And we can work with you to create visionary chat use cases that make you an insurance innovator.